New Publication: Standardising the Study of Spine Disc Cells
Intervertebral discs play a critical role in the functioning of the human spine. They provide stability, flexibility, and withstand normal daily loads to protect the spine from injury. At the centre of each disc is the nucleus pulposus, a gel-like substance that provides resistance to load. To gain a better understanding of this crucial component and develop treatments for spinal conditions, researchers must study its cells. However, the lack of standardisation in the methods used to extract (remove the cells from the spine) and culture (grow in a laboratory setting) these cells has been a challenge in the field.
Professor Christine Le Maitre tackled this challenge together with a group of spine scientists by proposing a standardised method for extracting and culturing nucleus pulposus cells from different species, including humans, dogs, pigs, rats, and rabbits. They conducted a comprehensive review of existing methods and identified areas for improvement.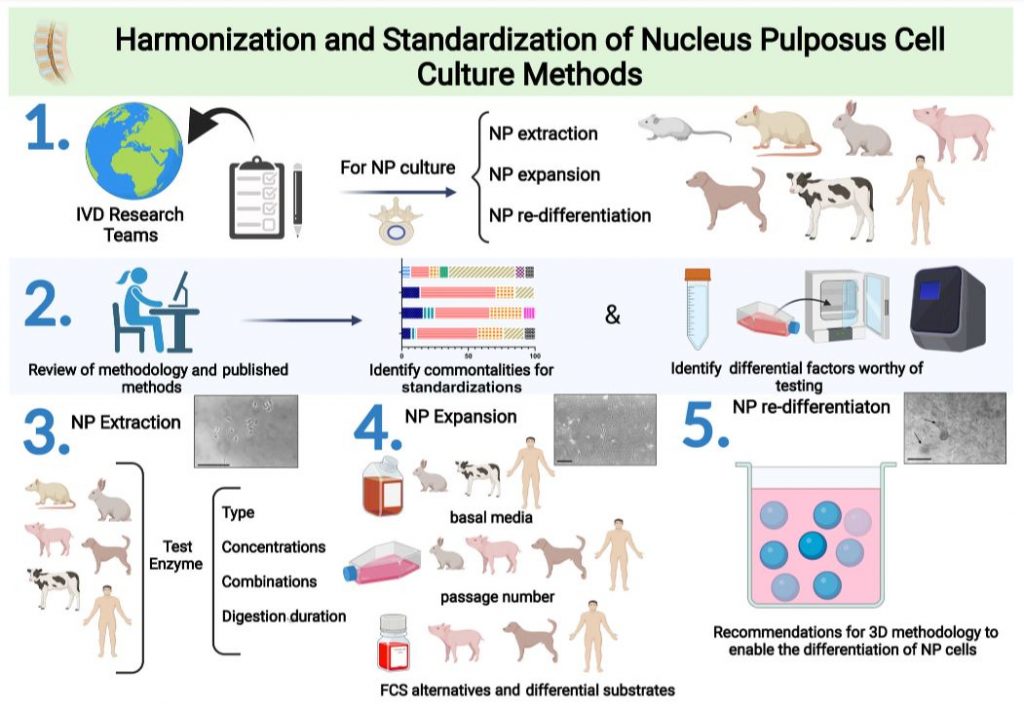 Experimental design: (1) The authors collected and compared methods for extracting, expanding, and re-differentiating nucleus pulposus (NP) cells from humans and animals. (2) They reviewed these methods and found similarities to standardize and recommend, as well as factors that need further testing. (3) They looked for ways to get the most cells while keeping their key features. (4) They studied how different things like media, passage number, serum, and substrates affect NP cell culture. (5) Finally, the authors suggest ways to culture NP cells in 3D and use alternative media that don't need serum, so everyone can do the same thing. Created with BioRender.com
 Based on their evaluation, they developed a new approach that involves the following steps:
1. Cell Extraction: The team isolated the nucleus pulposus cells from intervertebral discs from multiple species by using enzymes (proteins). When the discs are exposed to an enzyme solution, the surrounding tissue is broken down and the cells which are normally anchored in the tissue are released.
2. Cell Culture: The team then cultivated the extracted cells in a laboratory setting using a nutrient-rich solution to support their growth. They optimized the conditions to ensure the best possible growth and survival of the cells together with methods to maintain the behaviour of the cells as close body conditions as possible.
The team also included recommended quality control measures to ensure the accuracy of the results, such as monitoring cell health and the number of cells at different stages of the process.
The international team took the first step in developing a complete toolkit for spine researchers. The standardised method proposed provides a consistent and reliable foundation for future research on intervertebral discs. By standardizing the extraction and culture of nucleus pulposus cells, researchers can gain a deeper understanding of the biology of this component of the human spine and identify new targets for improving spinal health. This study takes a significant step towards standardizing the study of spinal cushions and advancing the development of treatments for spinal conditions.
Harmonization and standardization of nucleus pulposus cell extraction and culture methods
Shaghayegh Basatvat | Frances C. Bach | Marcos N. Barcellona | Abbie L. Binch | Conor T. Buckley | Brian Bueno | Nadeen O. Chahine |Ana Chee | Laura B. Creemers | Stefan Dudli | Bailey Fearing |Stephen J. Ferguson | Jennifer Gansau | Benjamin Gantenbein |Rahul Gawri | Juliane D. Glaeser | Sibylle Grad |Julien Guerrero | Lisbet Haglund | Paula A. Hernandez |Judith A. Hoyland | Charles Huang | James C. Iatridis |Svenja Illien-Junger | Liufang Jing | Petra Kraus |Lisanne T. Laagland | Gernot Lang | Victor Leung | Zhen Li |Thomas Lufkin | Josette C. van Maanen | Emily E. McDonnell |Chris J. Panebianco | Steven M. Presciutti | Sanjna Rao |Stephen M. Richardson | Sarah Romereim | Tara C. Schmitz |Jordy Schol | Lori Setton | Dmitriy Sheyn | Joseph W. Snuggs |Y. Sun | Xiaohong Tan | Marianna A. Tryfonidou | Nam Vo |Dong Wang | Brandon Williams | Rebecca Williams | S. Tim Yoon |Christine L. Le Maitre
First Published: 9 December 2022
Abstract:
Background: In vitro studies using nucleus pulposus (NP) cells are commonly used to investigate disc cell biology and pathogenesis, or to aid in the development of new therapies. However, lab-to-lab variability jeopardizes the much-needed progress in the field. Here, an international group of spine scientists collaborated to standardize extraction and expansion techniques for NP cells to reduce variability, improve comparability between labs and improve utilization of funding and resources. Methods: The most commonly applied methods for NP cell extraction, expansion,and re-differentiation were identified using a questionnaire to research groups world-wide. NP cell extraction methods from rat, rabbit, pig, dog, cow, and human NP tissue were experimentally assessed. Expansion and re-differentiation media and techniques were also investigated. Results: Recommended protocols are provided for extraction, expansion, and re-differentiation of NP cells from common species utilized for NP cell culture. Conclusions: This international, multilab and multispecies study identified cell extrac-tion methods for greater cell yield and fewer gene expression changes by applyingspecies-specific pronase usage, 60–100 U/ml collagenase for shorter durations. Recommendations for NP cell expansion, passage number, and many factors driving successful cell culture in different species are also addressed to support harmonization, rigor, and cross-lab comparisons on NP cells worldwide.
Funding information:
AO Spine North America, ThéCell/Réseau demédecine régénérative de McGill (MRM) and The Montreal General Hospital Foundation Code Life; AO SPine International; Berta-Ottenstein-Programme for Advanced Clinician Scientists; Dutch Arthritis Foundation, Grant/Award Number: LLP22; H2020European Institute of Innovation and Technology, Grant/Award Number: 825925;Irish Research Council for Science, Engineering and Technology, Grant/Award Number: GOIPG/2018/2448; Swiss National Science Foundation Project, Grant/Award Number:#310030E_192674/1; US National Institute of Health, Grant/Award Numbers: F32AR070579, R01-AR077678, R01-AR080096,F31-AR077385; Science Foundation Ireland Career Development Award, Grant/Award Number: 15/CDA/3476; National Science Foundation, Grant/Award Number: DGE-2139839; Veterans Affairs Career Development Award, Office of Research and Development Biomedical Laboratory Research& Development, Grant/Award Number: IK2-BX003845; Research Grant Council of Hong Kong, Grant/Award Number: GRF17121619;AOSpine, Grant/Award Number:AOSEAR2020-02; NIH/NIAMS, Grant/Award Number: K01AR071512