No, it is not possible yet to subscribe for a Clinical Trial of this project. Currently, for patients suffering from lower back pain in the US and in Europe stem cell therapies that are available employ the "classic" stem cells. These are stem cells that are isolated for example from the bone marrow or fat tissue and are being broadly applied in several fields of medicine with variable success. In Europe, the RESPINE project, subsidized by the EU, is recruiting and treating the first patients. We collaborate with partners from RESPINE in order to make a swifter step towards the clinic when the advanced iPSpine therapy is ready.
This will take at least five project years (2024). iPSpine aims to develop an advanced therapy combining the specialized stem cells and biomaterials to enable the cells to thrive in the harsh disc environment. These type of therapies require long development trajectory demonstrating their safety and possible efficacy before they can be transferred to the patient. The therapy being developed in the iPSpine project is in the beginning stages of such a trajectory. Extensive laboratory research will be followed by research with laboratory animals to demonstrate that this advanced therapy is safe. In five years we will know if the treatment is promising. If so, we will then start preparing for the first study in human patients.
You can subscribe for the patient feedback group. We are now looking for international, motivated individuals with chronic lower back pain to join our iPSpine patient feedback group to support the Patient Advisory Board (PAB) activities.  We are looking for individuals who: have experience living with, or have been diagnosed with chronic lower back pain, and who want to help us gain the patient perspective. The feedback group will support our Patient Advisory Board (PAB) consisting of patients, a clinician, an ethicist, and patient engagement researchers.
As part of our feedback group, you may be asked to participate in community outreach (e.g. social media posts, spreading the message about the project) and/or review study materials made available to the public (e.g. website content, lay summaries of publications, etc.). If you are interested to join, please send an email to ipspine@catalyze-group.com.
The more patients involved in the project, the more impactful the project will be!
The iPSpine treatment is currently under development and not yet available for patients. Consult your treating physician for questions regarding your personal treatment options.
Frequently asked questions for the future
We are in an early stage of research and the answer to the specific questions below is unclear. We will know more around 2021-2022 and will be able to address these questions more adequately.
How soon will the treatment be available?
Is there a financial cost to the patient?
Will it improve my quality of life?
Is it safe? Are there any side effects?
Can you have repeated injections if the condition is degenerative?
Will it be embraced by the NHS?
Where would I need to go for treatment?
Are there any contra indications that would make an individual unsuitable for treatment?
How will patients be identified as suitable for this treatment?
How long will the treatment last, is it a one off injection or a course of treatment?


Want to know a bit more about Notochordal Cells?
In all vertebrates there is structure resembling a flexible stock that extends throughout the body of the embryo. This structure is called the notochord. The notochord ensures firmness and gives signals that drive the development of the embryo.  It is temporary; the notochord disappears and at some point, when the development of the spine is complete, notochordal cells only reside is in the center of the disc.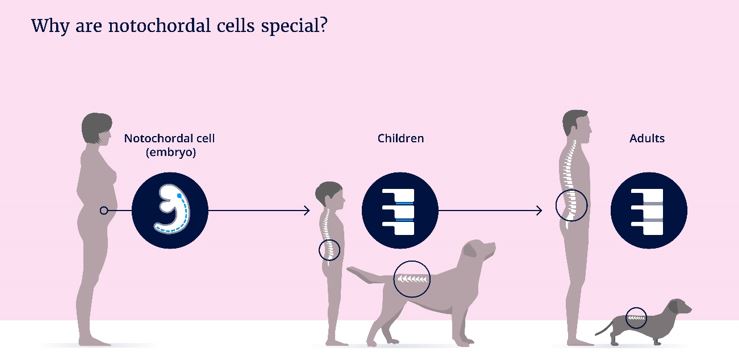 There is something very special about notochordal cells.
Notochordal cells are present in children but disappear later in life. It  happens, to what extent it is a coincidence, that 80% of people suffer from back pain once in their lives . Similar problems occur also in our 4-legged family-members; the dog. The problem mostly occurs in dog breeds with relatively short legs, such as the Dachshund, that often suffers from a acute hernia early in life. In other dog breeds, such as the Labrador, the notochordal cells remain present in adult animals and we only see back problems later in life.