News item: The road to a treatment for humans and man's best friend with lower back pain
The article below was originally written in Dutch and was published in the June 2021 issue of the member magazine of the 'Dutch Society of Backpain Patients' (Nederlandse Vereniging Voor Rugpatienten, NVVR, https://www.ruginfo.nl/).
Innovative research to rejuvenate our backs
Although chronic low back pain can have multiple causes, 'wear and tear' of the intervertebral disc is one of the most common ones. Scientists all over the world are conducting research to find new treatments for lower back pain. iPSpine is an EU funded collaboration between 21 institutes and experts who are working together to develop an innovative treatment to rejuvenate the spine.
Making a difference for people and dogs
The iPSpine project is coordinated by Professor Marianna Tryfonidou working at the Faculty of Veterinary Medicine at Utrecht University. Tryfonidou is a veterinary orthopedic surgeon for companion animals and has a great passion for scientific research. "With our research, I would love to make a difference for patients who are suffering from chronic lower backpain. These are not only people, but also veterinary patients. Current treatments for both patient groups are not focused on rejuvenating and restoring the intervertebral disc."
The concept of rejuvenating the intervertebral disc
The intervertebral disc of a fetus or a baby contains so called 'notochordal cells'. These cells disappear around puberty. There is a relationship between the disappearance of these cells and deterioration of the intervertebral disc. This is seen in both humans and dogs. Scientific research has shown that notochordal cells can produce factors that can rejuvenate the intervertebral disc.
Using notochordal cells as a cell therapy treatment on a large scale is not possible. It is ethically not justified and there are simply not enough fetal notochordal cells available to treat the large number of back pain patients worldwide. 'iPS technology' can offer a great solution for this problem. iPS stands for induced pluripotent stem cells. These are cells taken for instance from blood which can be programmed into embryonic stem cells. These embryonic stem cells can in turn be transformed into iPS-notochordal cells and be used to restore the intervertebral disc.
But iPS-notochordal cells will not survive on their own in the body. "A deteriorated intervertebral disc can be compared with a desert", Tryfonidou explains. "Injecting these cells without any help, would be like sending them off to the desert with only one water bottle. They will not survive that. Which is why we combine them with a 'carrier', a degradable material that is compatible with the body." For this application we will use a custom material, a hydrogel. The hydrogel will protect the cells and aid in their performance.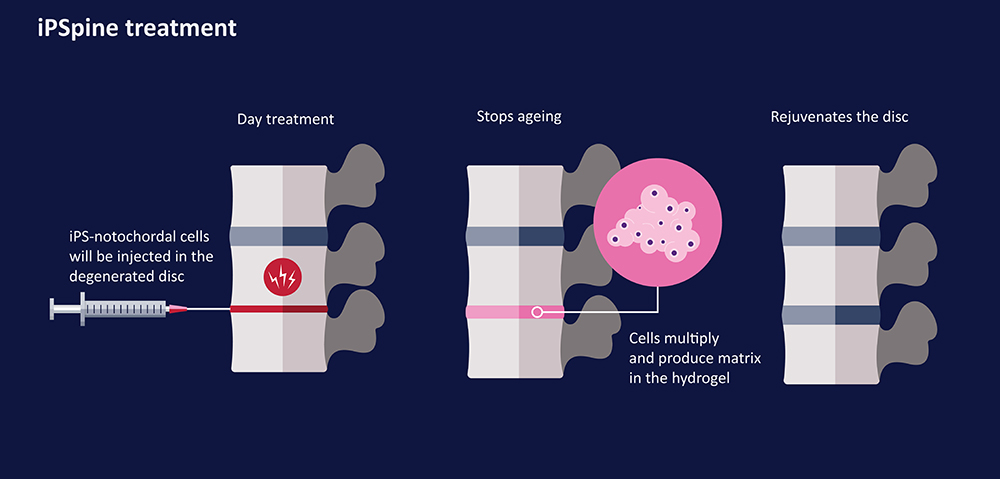 Imitating the intervertebral disc in the laboratory
Scientist from the Netherlands are also part of this European collaboration. Professor Niels Geijsen (Leiden University Medical Center) is developing advanced tools to improve the programming of iPS-notochordal cells. Professor Keita Ito (Eindhoven University of Technology) developed a cutting-edge culture system, a so-called bioreactor. Dr. Laura Creemers (UMC Utrecht) uses this bioreactor to culture small pieces of tissue from the intervertebral disc while they are subjected to loading forces that a deteriorated disc normally experiences. This way, the scientists can develop and test the new treatment first in the laboratory, without the use of laboratory animals. Ethics Professor Annelien Bredenoord (University Medical Center Utrecht) focusses on the ethical challenges that come with the development and implementation of these new and advanced therapies.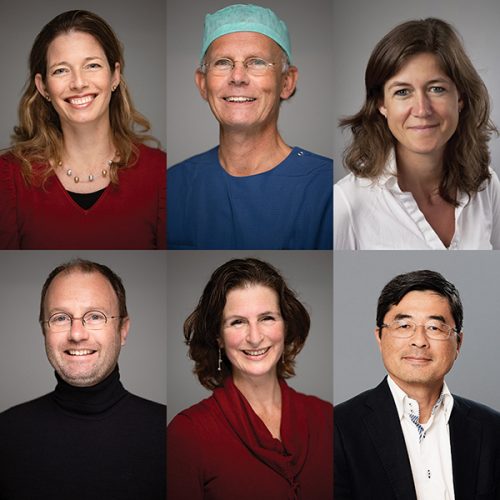 iPSpine researchers in the Netherlands: Upper panel: prof. dr. Marianna Tryfonidou & prof. dr. Björn Meij (Utrecht University) and prof. dr. Annelien Bredenoord (UMC Utrecht). Lower panel: prof. dr. Niels Geijsen (Leiden University Medical Center), dr. Laura Creemers (UMC Utrecht), and prof. dr. Keita Ito (Eindoven University of Technology).
Towards a solution for the treatment of a deteriorated disc
Patients are often involved in scientific research. Therefore, iPSpine set up a patient advisory board comprised of seven international backpain patients. Together with the patient organization the Dutch Arthritis Society, these patients will provide insights on patient needs.
One of the patients is Rian de Brouwer. She is happy with the iPSpine collaboration: "It would be great if people with backpain do not need to have surgery anymore. This is exactly the aim of iPSpine: restoration of the intervertebral disc." Koert Hommel, also member of the patient advisory board, agrees. "I am happy that the focus is not only symptom relief, but on a real solution: rejuvenation of the disc." 
Testing the treatment
It is expected that the feasibility of the treatment is tested by 2024. After that, a clinical study in veterinary patients will be conducted led by Professor Björn Meij (surgeon of companion animals at Utrecht University) and Tryfonidou, where dogs with lower back pain will be treated.
Want to know more about iPSpine?
he progression of the research can be followed through the iPSpine website, Twitter (@ipspine) and Facebook. iPSpine is an EU Framework Horizon 2020 Programme, grant agreement no. 825925.